XIC Loyalty Card – Tarjeta de fidelización
December 4, 2019

Posted by:

XICmarketing

Category:

News

,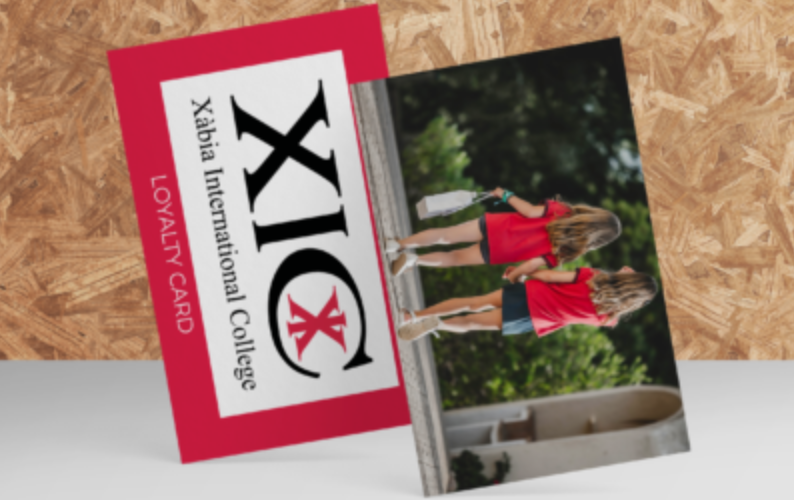 With respect for the families in the College and for the many businesses in and around the Javea area, Xabia International College would like to provide a Loyalty Card Initiative.
As we know, when the tourists are in the Costa Blanca from May to September most of the service businesses are extremely busy, however, when the tourists leave these same businesses rely heavily on the resident community that live here in Javea. We would like to help the business community as well as providing a small benefit to our XIC families. As the College has now in the region of 450 pupils many businesses may benefit from reaching out to our community.
We would provide each of our families with a Loyalty Card. This card, when presented to any of the businesses that support the initiative, would entitle the family to the discount that the individual business has agreed with the College. We suggest that the initiative would be live during the low season when the tourists have left.
We would invite businesses to join the initiative by offering the following; During the Low Season, October to April, a reduction in charges of between 5% to 10% to families of Xàbia International College.
If you have a business and you would like to participate in the initiative, please could you contact me at the following address rwijeratne@xabiainternationalcollege.com
We do hope that the above initiative might be of interest to you as it could be of benefit to all parties.
Con respeto a todas las familias del colegio y las muchas empresas que encontramos en Xàbia y sus alrededores, Xàbia International College quiere proporcionar una tarjeta de fidelización.
Como sabemos, cuando los turistas llegan a la Costa Blanca de mayo a septiembre, la mayoría de las empresas de servicios están extremadamente ocupadas y cuando estos turistas se marchan, tienen que depender de la comunidad residente aquí en Xàbia. Nos gustaría ayudar a las empresas, además de aportar un pequeño beneficio a nuestras familias de XIC. Ya que el colegio cuenta con unos 450 alumnos, muchas empresas se pueden beneficiar de acceder a nuestra comunidad.
Proporcionaríamos a cada familia una tarjeta de fidelidad. Cuando se presente esta tarjeta en cualquier empresa que apoya la iniciativa, se les haría el descuento que esa misma empresa haya pactado con el colegio. Sugerimos que esta iniciativa esté vigente en temporada baja, cuando se han marchado los turistas.
Invitaríamos a las empresas a unirse a la iniciativa ofreciéndoles lo siguiente: En temporada baja, de octubre a abril, una reducción en el coste de entre el 5% al 10% a las familias del Xàbia International College.
Si tiene una empresa, y le gustaría participar en esta iniciativa, por favor pónganse en contacto conmigo por medio del siguiente e-mail: rwijeratne@xabiainternationalcollege.com
Esperamos que sea de su interés ya que puede ser muy beneficioso para todos.
With very best wishes. Con mis mejores deseos
Richard Wijeratne