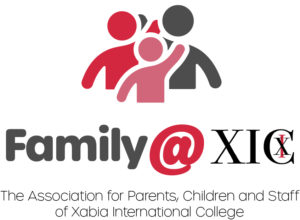 Family@ is our parents, staff and children's association in XIC. What you would expect from a traditional Parents' Association – but involving everyone in the XIC family.
It's the space where we organise social, sporting and creative events, as well as providing excellent networking and engagement opportunities for all of us in the school community.
"We're excited about the opportunity to develop an association that brings parents, staff and children together and offers an opportunity for all of us to get involved, and enjoy, school life outside of the classroom. Whilst at the same time we will be able to provide some of those very special extras for our children in XIC as well as helping other children outside of XIC get a better start at life (via the Make a Smile charity) – makes it all the more meaningful as well".
Events
Events we are looking to invite our community to participate in are:
International Day
Christmas Fair
Coffee Mornings
Seasonal Socials
Parent Quiz
If you have an idea for an event? Email us at Family@xabiainternationalcollege.com
Connect with other parents
We have WhatsApp groups for all years, which will allow parents to communicate with each other.
There are no real rules to these WhatsApp groups, other than to be kind and respectful and use them as intended – which is to exchange useful information and advice related to the school and parenting kids in the Javea community, and to get to know each other as fellow parents.
You can find the QR codes for each year group below which you simply scan with your phone to add yourself to the group.
Not much happening in your group? Some years are chattier or have more activity than others, why not jump in on yours and get things going?
Link with charity
This year we will also donating a percentage of any funds raised to Make a Smile, an amazing local charity which raises funds to help feed, clothe, equip and educate disadvantaged children and children in care. You can find out more about them by visiting: www.makeasmile.es
Got a fundraising idea? Email us!
Please do get involved!
If you want to get involved in helping to organise XIC Family activity? We're always looking for volunteers to join our committee and help come up with ideas for events and deliver them.
We meet up as a committee a few times a term for coffee and brainstorming so it's another nice chance to meet up with other parents.
Email: Family@xabiainternationalcollege.com if you're interested in joining us.