We offer bus routes to all 3 sites from Javea and surrounding areas. We also offer a shuttle bus between sites.
The cost for the bus in Javea area is 65€/month
Cost for the bus outside Javea area is: 130€/month
The cost for the Shuttle Bus service between the 3 sites will be 40€/month
Please remember secondary students finish school at 15:00 on Fridays and it is for this reason that there is a separate timetable for Fridays.
Security measures include:
-Temperatures are taken before getting on the bus
-Disinfectant gel
-Children over 6 yrs must wear mask
-Each child will have a designated seat for the whole year
-Siblings must be seated together.
TO BOOK A PLACE, PLEASE E-MAIL:
valerialopez@xabiainternationalcollege.com
PLEASE SPECIFY bus nº and stop that you will be using BOTH WAYS.
Monday – Thursday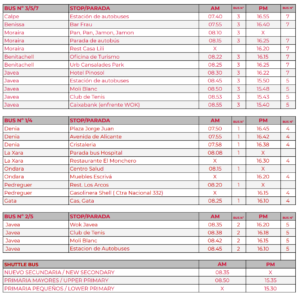 Fridays