Fees and Costs 2023-2024
Initial Registration Fee, Year 1 upwards (non-refundable): 600.00 euros (per child)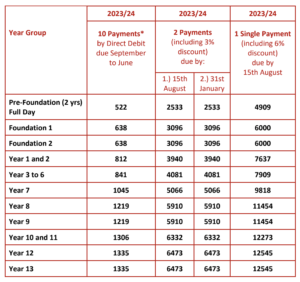 All costs for books, materials and accident insurance are included in the fees, up to and including Year 11.
There is a 5% discount for the 2nd child and 15% for subsequent children.
In March/April parents are invited to re-register their children (up to and including Year 12) for the next academic year. A Re-Registration fee of 600€ is then due. This non-refundable fee guarantees a place and is deducted from the following year's account. Failure to pay the fee will result in the student going on a waiting list.
Any late payments will automatically incur a 30€ processing charge and accrue interest at 6% from the due date.
*Direct Debit forms need to be filled in and approved by the College
Terms and Conditions
Payment of Fees
Tuition
 A single payment to be paid by 15th August 2023.
Two instalments – the first to be paid by 15th August 2023 and the second to be paid by 31st January 2024.
Ten monthly payments paid by direct debit. Fees will be payable during the first five days of each month. If you wish to pay by this facility you will be required to complete a form with your bank details.
A reduction of 5% is given for the second child and 15% for subsequent children.
A separate payment plan for children starting during the
school year will be prepared by the Administration Department.
At least one term's notice must be given if a child is leaving the College.
In the event of a pupil being suspended or expelled from the College there will be no refund of fees.
In the case of not being up to date with the fees, the School reserves the right to stop providing the service due to non-payment and the student will not be able to attend classes until the outstanding balance is settled. This situation will not be considered as a disciplinary expulsion.
A reduction in fees cannot be claimed for periods of absence or if exam subjects are 'dropped' by the student.
Please note that fees shall not be refunded.
Examinations
Parents are responsible for the cost of external examination entries and payment is required prior to entries being made. During examination periods for IGCSE, GCSE or A-level examinations, normal lessons continue and therefore all students should attend college. Normal tuition fees apply for this term.
The College reserves the right to make changes in the Administrations Procedures, Conditions and Regulations, and in the subjects offered. These changes will only be introduced if they are considered necessary or beneficial to the education of the pupils and assist the efficient operation of the College.
XIC Introduction to Foreign Currency Direct
Xabia International College (XIC) would like to introduce Foreign Currency Direct to all our parents.
Foreign Currency Direct are a licenced, regulated currency exchange company with their head office in the UK. They also have European offices in Portugal and Spain, including a local branch in Javea on the Cap de la Nao.
If you are paying for school fees or your children's exams, Foreign Currency Direct will give you discounted rates of exchange. You will have a dedicated account manager who will assist you during the process
The service also extends to your requirements outside of the school, such as, if you are buying or selling a house, purchasing a car or if you are making regular overseas payments, Foreign Currency Direct can help you.
There are two dedicated account managers based in their Javea office. They have over 70 years of financial service experience between them, both having worked many years in the financial markets in the City of London. Once you have registered with Foreign Currency Direct, you will be introduced to your dedicated account manager who will be there to assist you through the whole process.
To find out more about the service, simply call the Javea office on +34 966 260 777 or 0044 (0) 203 355 5377, or send an e-mail enquiry to glenn.tullett@currencies.co.uk. You can also register with them directly by clicking on the Foreign Currency Direct logo above.