PRIMARY
We are very happy to confirm that this year we will continue to provide our Primary School lunches with Mendoza. Mendoza are a Spanish catering service with custom menus designed under the strictest quality and hygiene controls. They provide a nutritionally balanced, three course lunch menu daily that the children enjoy! The cost will also continue to be €6.50 per day.
Hot meals are ordered and paid for one month at a time. Order forms are sent by email at the start of the year or when a student joins but please speak to the School office (email primary@xabiainternationalcollege.com) if you need a new copy.
SECONDARY: BOKA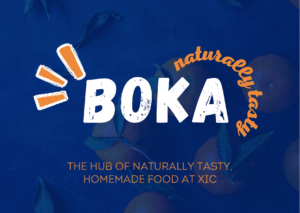 Visit Boka's website: boka.xabiainternational.college
Lunchtime is an important part of the XIC school day, when we come together to eat and chat, reinforcing the sense of community that makes the school such a happy place. Having spoken to many of our students last term, we developed our new restaurant, BOKA.
The initiative is to provide our Secondary School community, staff and pupils, with a revolutionary provision of food and snacks in a comfortable and welcoming dining area.
A chef
We are delighted to announce that Meghan Partridge, who has worked locally in La Trattoria, La Esquina and the Irish Bar has joined the team to help us provide the best food.
Natural, tasty food
The menus that are prepared are designed to be healthy, balanced and nutritious. We only use good quality ingredients and where possible, put the emphasis on fresh produce.  We also understand the importance of dietary/allergy requirements and we will do our best to create a menu that best suits your child's needs.
Environmentally friendly
We are conscious of our environment and have steered clear of plastic. All the food will be served on plates or in cardboard packaging.
An inviting space
As well as keeping them fuelled for their busy day, it is intended that the children will enjoy the whole experience of eating at BOKA. We have worked with an interior designer to create a comfortable, inviting and inspiring space.
Menu
To view the menu: boka.xabiainternational.college
We provide breakfast, break time snacks, lunch and afternoon snacks every day. For lunch there is a hot meal and a selection of salads, sandwiches and wraps available to choose from every day.