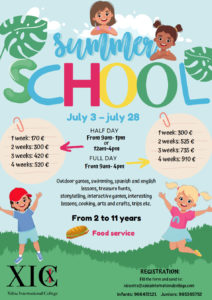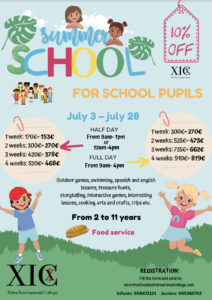 Hey there! Get ready for the coolest Summer School ever! From the 3rd to the 28th of July, we're inviting all kids aged 2 to 11 to join us for a month of non-stop fun!
Our jam-packed schedule has it all – from outdoor games and swimming to treasure hunts and interactive games, your little ones will have a blast! They'll also pick up some Spanish and English skills, get lost in exciting storytelling, and discover their creative side through cooking, arts and crafts. Plus, we've got awesome trips planned to make this summer truly unforgettable. And, no need to worry about packing lunches – we've got a tasty food service that'll keep their tummies full and happy.
Don't miss out on this epic summer adventure that'll create memories and friendships to last a lifetime!
Click here to download the full brochure of activities and sign up form.