UAE Team Emirates sign Juan Ayuso, XIC student / El Team Emirates ficha a Juan Ayuso, estudiante de XIC
April 30, 2020

Posted by:

XICmarketing

Category:

News

,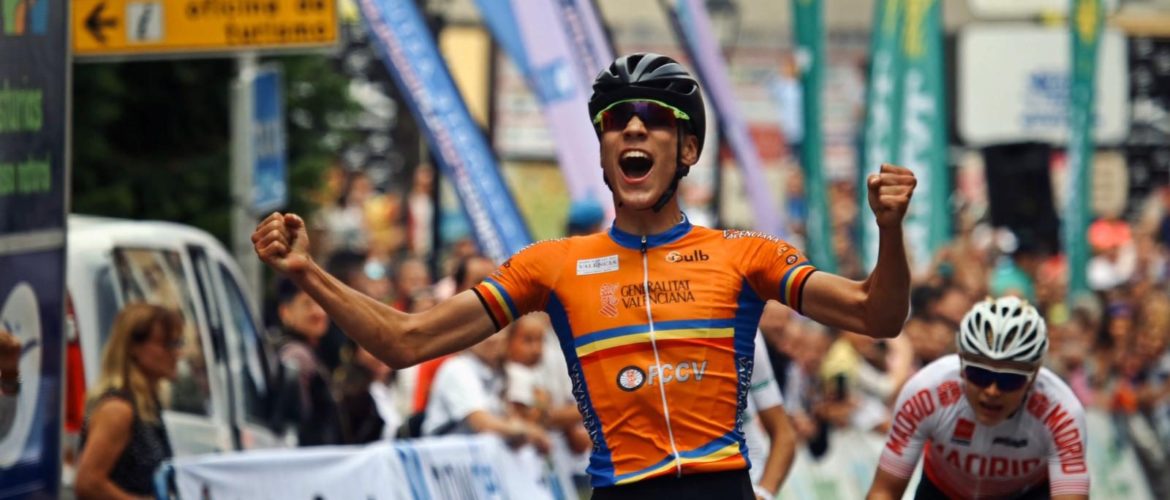 Congratulations Juan!!! Your whole school is very proud of you. Your teachers and friends at XIC wish you all the best ????⭐
UAE Team Emirates has signed Juan Ayuso, 17, and one of the jewels of Spanish cycling, for the next five seasons, as reported by the Emirati team.
Current junior national champion, with 6 wins to his name so far in 2020, will join the first year in a development team to decide with the aim of gaining experience and making a gradual transition to the professional ranks, under the direction of the coach Spanish Josean Fernández Matxín.
"Juan is a rider that we have been following for a long time. It is no secret that we like to work with talented youngsters and Juan is the definition of this. He has the right balance between physical talent and a very good head on his shoulders. Together With Juan and his parents we are thinking more in the medium and long term, "explains Matxín.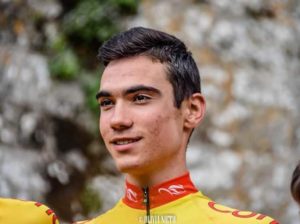 According to Matxín, the idea is for him to make a gradual transition before reaching the World Tour team.
"We are deciding, together with Juan and his family, where it is best for him to spend his first year, whether a team at a continental or professional level."
Ayuso arrived at the last UAE rally last winter and trained with a bicycle provided by the team. Last year he had an exceptionally strong season as a junior and he proved it again earlier this year.
"The idea is to give him time and space to develop as a rider and as a person. The priority at the moment is that he likes the bicycle. It is a five-year project with Juan and he is part of the long-term planning that we are building in UAE Team Emirates".
Juan Ayuso, happy with the signing, hopes to become a good climber and stand out in the big events.
"Right now I am an all-rounder, but I think in the future I will focus on being more of a climber. My first contact with the team was through Matxin in the middle of last season, then I got to know the team a little better at their camp training last winter. "
In the team's concentration, Ayuso had the opportunity to see how the Matxín team worked, and the experience qualified it with great marks.
"I was really impressed by how well the team was structured and the great atmosphere among the riders. The decision of choosing UAE ahead of any other team is because the teams mentality is very similar to mine; a very ambitious mentality with a very hard work ethic behind it. The team is relatively new, and it is taking huge steps to improve each year. I have no doubts that the team will become the best team in the World Tour in the near future. "
The FER Project cyclist has also shined internationally. In 2017, he was awarded the white jersey that accredited him as the best first-year cadet of the Tour of Portugal.
In 2018, he was crowned in the queen stage of the Tour de l'Ain, a prestigious event that annually brings together in France the best cadet cyclists on the international scene. On the roads of the neighbouring country, Juan Ayuso certified his climber status.
¡¡¡Enhorabuena Juan!!! Todo tu colegio está orgullosísimo de tí. Tus profesores y compañeros te deseamos lo mejor de lo mejor ????⭐
El equipo de los Emiratos Árabes Unidos (UAE) ha fichado a Juan Ayuso, de 17 años y una de las joyas del ciclismo español, para las próximas cinco temporadas, según ha informado el conjunto emiratí.
Actual campeón nacional júnior, con 6 victorias a su nombre hasta el momento en 2020, se integrará el primer año en un equipo de formación por decidir con el objetivo de ganar experiencia y hacer una transición gradual a las filas profesionales, bajo la dirección del técnico español Josean Fernández Matxín.
"Juan es un corredor que hemos estado siguiendo durante mucho tiempo. No es ningún secreto que nos gusta trabajar con jóvenes talentosos y Juan es la definición de esto. Tiene el equilibrio adecuado entre el talento físico y una muy buena cabeza sobre sus hombros. Junto con Juan y sus padres estamos pensando más a medio y largo plazo", explica Matxín.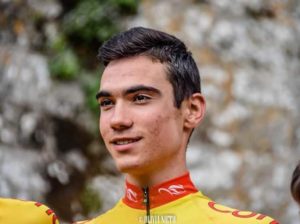 Según Matxín, la idea es que haga una transición gradual antes de llegar al equipo del World Tour.
"Estamos decidiendo, junto con Juan y su familia, dónde es mejor para él pasar su primer año, si un equipo a nivel continental o profesional".
Ayuso llegó a la pasada concentración del UAE el invierno pasado y se entrenó con una bicicleta que le facilitó el equipo. El año pasado tuvo una temporada excepcionalmente fuerte como junior y lo demostró nuevamente a principios de este año.
"La idea es darle tiempo y espacio para desarrollarse como corredor y como persona. La prioridad en este momento es que le guste la bicicleta. Es un proyecto de cinco años con Juan y él es parte de la planificación a largo plazo que estamos construyendo en UAE Team Emirates ".
Juan Ayuso, feliz con el fichaje, espera convertirse en un buen escalador y destacar en las grandes citas.
"En este momento soy un todo terreno, pero creo que en el futuro me enfocaré a ser más escalador. Mi primer contacto con el equipo fue a través de Matxin a mediados de la temporada pasada, luego conocí un poco mejor al equipo en su campamento de entrenamiento el invierno pasado".
En la concentración del equipo, Ayuso tuvo la oportunidad de ver cómo funcionaba el equipo de Matxín, y la experiencia la calificó con gran nota.
"Realmente me impresionó lo bien que estaba estructurado el equipo y el gran ambiente entre los corredores. La decisión de elegir EAU antes que cualquier otro equipo es porque la mentalidad de los equipos es muy similar a la mía, una mentalidad muy ambiciosa con una ética de trabajo detrás. No tengo dudas de que el equipo se convertirá en el mejor del World Tour en un futuro próximo".
El ciclista del Proyecto FER también ha brillado a nivel internacional. En 2017 se adjudicó el maillot blanco que la acreditaba como el mejor cadete de primer año de la Vuelta a Portugal.
En 2018, se coronó en la etapa reina del Tour de l'Ain, un prestigioso evento que cada año reúne en Francia a los mejores ciclistas cadetes del panorama internacional. En las carreteras del país vecino, Juan Ayuso certificó su condición de escalador.