Chapter 4 – Lockdown at XIC: A day in the life of…
June 1, 2020

Posted by:

XICmarketing

Category:

News

,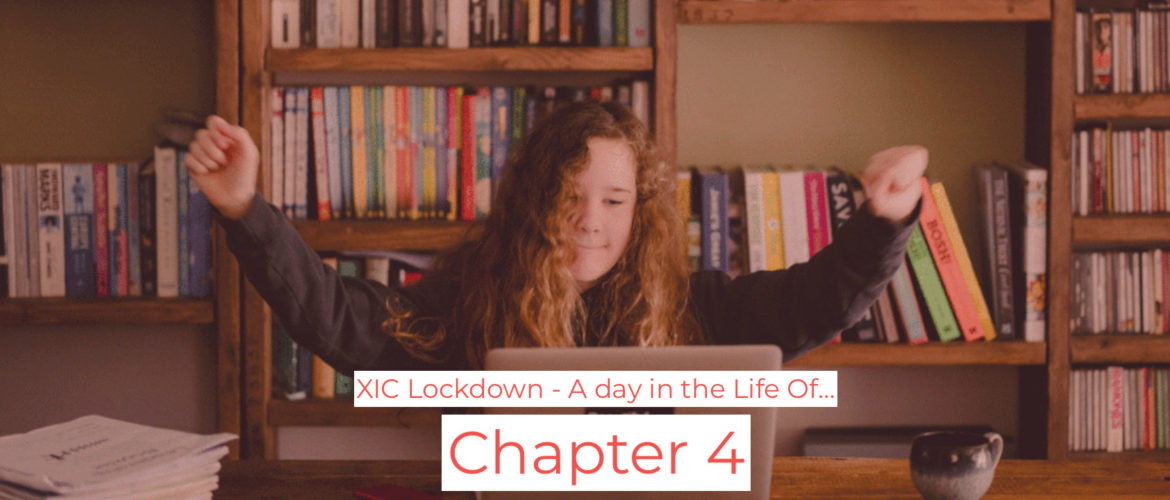 Lockdown at XIC: A day in the life of… is a series by pupils, staff and members of the community documenting their daily routines during these very strange times. Follow our channels to read more! 
Chapter 4
Lockdown at XIC: A day in the life of… Elena
A day in Online learning by Elena Nasir-González
Dear Diary,
So, we haven't been going to school because of the Coronavirus epidemic, which means that we've been having online school. At first, I was sceptical, as I didn't think that the lessons could be interactive if we were not all together, but I soon came to the realisation that my teachers were more fun than I anticipated even on a virtual platform!!
"Good Morning, happy Coronavirus Tuesday!! Cheer up everyone!! The legendary and incomparable Mr. …… has arrived!!" this was one of the first messages we received, from our Sociales teacher, and what an uplifting one it was!!
In fact, most of our teachers encouraged us with kind messages trying to normalise this strange situation we've all been put in and making the experience more enjoyable for us.
In my opinion, the following are some -but not all- of the most memorable moments of lockdown learning so far:
In Music, we were asked to create our own instruments out of everyday items and recycling materials, then we actually got to play them in class! I was happily drumming on my plastic bin for everyone, when one of my classmates said that she was expecting "someone" to use their voice as an instrument, so, naturally, I stopped drumming and started squeaking for everyone. The lively reactions from the class, and the teacher, tells me that my performance was very appreciated by the audience!!
In ICT, we're currently learning about technology, and how it affects the environment. To approach the issue, we got to play around in a specialised Google website that had a lot of interesting information and fun facts. It forced us to commit to pledges and think about the way we impact nature. We wrote our own essay on everything we learnt at the end of the lesson. I found this an entertaining way to genuinely understand the topic.
In our latest Drama lesson, we got to sketch modern takes on traditional character outfits, such as Romeo and Juliet.
Earlier, we had been performing a script of the play "Clue," in which we all got to read for different characters.
This take on the lessons is not only fun, but also participative, as all the students share their ideas and suggestions, making them more like the real-life ones.   
Generally, we have had lots of laughs, creative assignments (a particular one for Art required the precious participation of other members of the family!), interesting topics to cover, and we have met and "love" Quizizz!
The icing on the cake, for me, my dear diary, has been the cheeky interruptions by our teachers' adorable children. I always look forward to seeing their cute faces terrorising my teachers! 
That's all for today! Ta-ra!
Elena