Chapter 3 – Lockdown at XIC: A day in the life of…
May 15, 2020

Posted by:

XICmarketing

Category:

News

,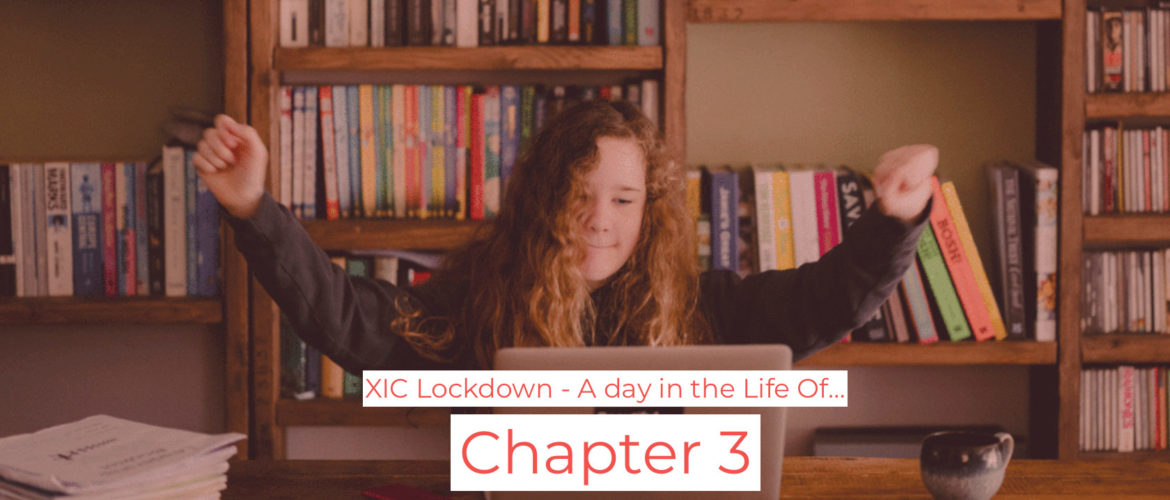 Lockdown at XIC: A day in the life of… is a series by pupils, staff and members of the community documenting their daily routines during these very strange times. Follow our channels to read more! 
Chapter 3
Lockdown at XIC: A day in the life of… Year 10 & 11 ESL students
A Spark Of Realization During Quarantine Time 
Not long ago, a very harmful disease was discovered in China, Wuhan and as a result nearly every country in the world has been infected. The widely spread Pandemic has caused many countries to take action and to quarantine areas that were highly infected including, Italy, Iran, China, Germany and Spain. 
It has been a total of 4 weeks since the last time I set foot on the street and unfortunately many more are yet to come. Although,I'm very happy and thankful for the fact that my family and I are blessed to live in a house, I can imagine how stressful it must be in small apartments with many children or other family members. 
Truthfully, I have come to the realization that over the years, we have lost the real value of what it actually means to go outside and meet whoever we want, whenever we wish to. It is amazing how freedom is not only something precious but also a kind of luxury that has been forgotten over the past years in Modern Society; how the presence of many people in a room can give you a feeling of comfort, the handshake or a hug from someone can cause so much joy, and how such a small gesture like a smile on somebody's face has the power to create such a pure and content feeling. 
Not everybody thinks the same way as I do but I strongly believe that this quarantine time, is an opportunity for us as human beings to look into our inner self instead of keeping our eyes on the exterior. I believe this experience is allowing us to find and discover our inner connection with the soul, and follow the red string back to our spiritual being that has been ignored for too long. We're living in a world that loves consumerism and prefers physical materialism over inner values. Our society has started to drift from this materialistic based world into a different virtual dimension, drifting away from our inner spirituality. 
In such a difficult time when we're constantly experiencing a mixture of fear, anxiety, claustrophobia and confusion, faced with increasing numbers of death and shocking newspaper articles, we need to reach out to our inner essence, gifted with love, purity and positivity, and not let fear get to us. – Written by S
During this 'lock-down' period, as a result of the Coronavirus I have learnt that time alone is sometimes good and can be thought of as positive. It has shown me that even if you are alone you are not really alone. People always say that you can choose your friends, but I don't believe in that. The people who become your friends are those, who by circumstances beyond one's control, come into our life when you least expected it. We should always support our friends and know that they will support you, no matter what obstacles we are facing or situations that have happened between one another. This is what real friends are. This self- isolating time has shown me that I need to stay more in contact with those people who have helped me and haven't expected anything  in return. We should appreciate these people more and tell them how we feel about them. – Written by M
I have learnt to really appreciate the life given to me. It's not easy at all to understand that you are in the middle of a very dangerous situation and can't actually do anything about it. I have become more responsible and have learnt to make the right and intelligent decisions related to the safety of both myself and my family. I have understood how important it is to take care of your health and maintain your hygiene. It has become clear to me how to act in difficult situations and that there is never a place for panic or anxiety. To solve a problem people just need to stay calm and think. Talking about online classes I can't say I really like this way of educating but it's still a great experience, not only for me but for my friends and teachers. I'm happy that I can still study and keep a normal routine despite the Pandemic. All in all I will continue to study and communicate with people. I will take care of my family and my health. I hope that this is all going to end soon and people can finally ' breathe-out' and start a new chapter of their life. – Written by O
I have discovered a lot of new things I most likely wouldn't have found out if this disaster hadn't happened. When it first came on the news no -one took it seriously and as a result it broke out as a Pandemic. Everyone now realises how dangerous it is and are taking the necessary precautions. Now that I am forced to stay inside I have enough time to do things I normally don't have the time for. I have become aware of a lot of different things; for example having the necessary 9-10 hours of sleep that i normally don't have and organising all my school work. I have learned that there are things in life we shouldn't take for granted such as spending time with family. Now that my parents are with me everyday I am able to spend more time with them and these are the moments I most appreciate. – Written by Q
During this lock- down I have learnt how to manage my time. Previously I used to spend less than seven hours at home. As a result of this lock-down I have learnt to separate my time to study, do some fitness, play computer games and watch Netflix, not just being lazy and lying on the sofa. – Written by J
I have learned how to organise myself and my thoughts. This year hasn't been easy for me. I started to think negatively about school and about everything around me, now I have learned what I can do and how to deal with it. I have also improved my cooking.  The one negative point about the lockdown is that my sister should have come in the Easter Holiday but due to Covid -19 her flight was cancelled and I probably won't see her until the Summer. I am also worried about my grandparents and am trying to call  them everyday. The good thing is I still have a lot to do so I have no time to be bored. – Written by Y
I've learnt how important it is to take care of our hygiene, washing our hands and sanitising with alcohol. This quarantine period has given me a chance to practise my drawing skills and has given me, and many other people, the fun experience of trying out new activities for the first time. I have also learnt how important my friends are. Before the ' lock-down' period I was used to regularly seeing all my friends but now I'm in this situation I've realised that my friends are my life. Whilst the CV-19 is a deadly Pandemic with tragic consequences the positives are that we are helping the environment to recover and are spending valuable time with our families. – Written by N
This isolation period has made me aware of everyone and everything that we took for granted before. I think the most difficult thing about this lockdown has been that i'm haven't been able to do my sports or go outside with my family or friends. I'm really looking forward to seeing my family and friends and just being able to have the freedom to leave the house to do my sports when I want to. – Written by N
I have learnt the value of being with the family. I have also learnt to structure my day, so that I have time to study and do sport and free time for myself. Everyday I'm studying a lot more and eating much healthier food as I'm not doing as much sport as i was doing before. But most importantly, I have learnt the value of the people who are working day and night to end this crisis. – Written by L
This lock-down has made me aware of my true friends, those who I want in my life and those who want me in theirs. The most difficult things have been the arguments with my mum because I've had nowhere to escape and the fact that my friends have been struggling with different problems but I haven't been able to be there with them. I'm now looking forward to spending time with my friends because I realise how important these small moments are in my life. – Written by L
This lock-down has made me realise how lucky I am, to have the close bond with my parents that I normally take for granted. The most difficult thing has been not being able to go out of the house. I've enjoyed my time inside but once someone tells you that you can't do something you want to do it even more. I'm looking forward to going to the beach and out to dinner with my family. This is a very difficult time for all of us and we have to get through this the best we can. I'm very concerned about the economic and redundancy statistics. Many businesses will go bankrupt. – Written by K
I have discovered that I prefer having online school to going to school. This is because I don't have to wake up as early as I usually do and that I'm at home all day with my family. In addition, I can eat whenever I want. I have discovered that I  work better with music which unfortunately we are not allowed to do at school. A negative is that I do miss going out sometimes with my friends. – Written by J
We  should appreciate who we love, I miss my friends and part of my family. I look forward to organising a party with my friends. – Written by J
I have learnt that I could perfectly survive solely in my house for an extended period of time, I have also learned how different people can be from each other. For example my mother can't bear to be confined at home whilst me and my brother don't have this problem. – Written by G