Chapter 1 – Lockdown at XIC: A day in the life of…
April 28, 2020

Posted by:

XICmarketing

Category:

News

,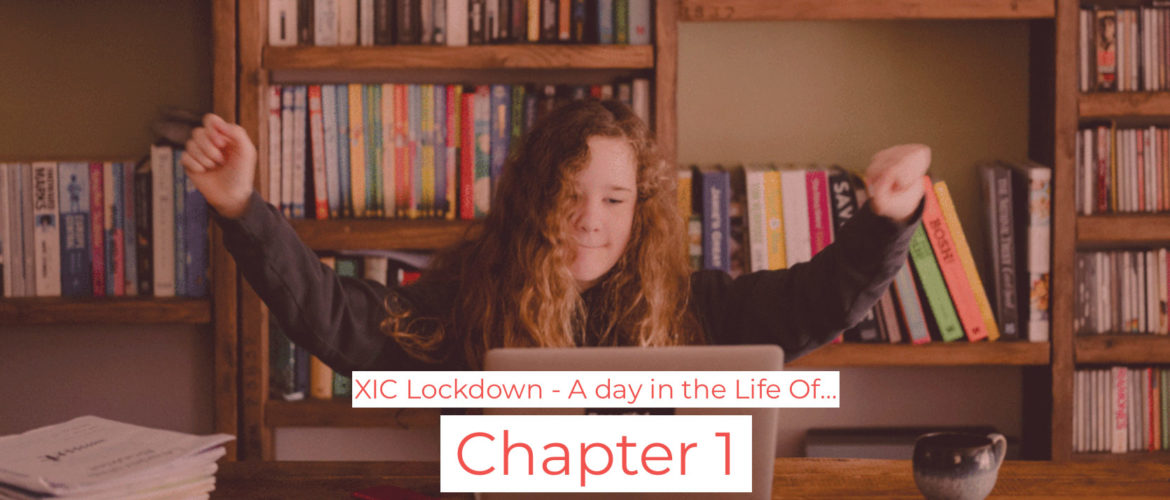 Lockdown at XIC: A day in the life of… is a series by pupils, staff and members of the community documenting their daily routines during these very strange times. Follow our channels to read more! 
Chapter 1
Lockdown at XIC: A day in the life of… A 9 year old
By David Gardner-Brown
It's one minute to nine and everyone is gathering together in the Google classroom. The volume really is a bit loud, but before I can do anything about it Miss O.K says ¨Good morning everybody, I hope you all had a good Easter and had lots of Easter Eggs.¨  The volume goes even higher than before, with the whole class talking at the same time, everyone telling everyone else just how many eggs they all got, and how they got them. I never realised just how loud 14 children all talking at the same time really is.
"Before we do anything else this morning" continues Miss O.K in a cheerful voice, with palpable joy on her face at the prospect of the next 6 hours with her flock, "Today is Henry's birthday, so we are going to sing Happy Birthday to him, firstly in English, then in Spanish,  HAPPY BIRTHDAY………………"
I really do now need to do something about the volume, maybe I only need to get the girls to speak a bit softer?
"First lesson today, as you all know from your timetable – which I sent to your school email account – is Maths – so can you all log in to My Maths".  Changing the volume will have to wait!  "We are revising the 12 times table first, just to get you all in the mood".  When is anyone in the mood for Maths? –  I thought – but did the exercise as instructed.  It's a good lesson, but I did need to get help from Grandad about 120 x 12 x 0 x 10!  I still can't see how the answer is 0 – but Miss O.K says it is, so it must be!
9.50 – time for a break – and just enough time to get a juice box and be back ready for English at 10.00.  Volume now adjusted – or maybe everyone has run out of things to say all at once.
After a lesson about the use of homophones in a poem and then a fruit and muesli bar break – there follows my favourite Humanities lesson – all about the ancient Egyptians!  We get to look up loads of stuff on Google about King Tut.  Pretty cool to be a Pharaoh and master of everything when you are only 14!
I bet King Tut had someone who could have helped him with the last lesson of the morning – all about computing codes.  They knew a lot about codes those Egyptians!  Still Miss O.K seems to know a lot too – and made it more fun than the High Priests would have done back then!
It's 12.30 before you know it – and Miss O.K says "lunch time, see you all in an hour. Don't be late!"
Some food, drink and a run around outside with my brother for a while, then back to G Classroom to get ready for Spanish with Ms. Esti.
Somehow the volume has gone back up. Too late, my name is called, and I have to ask for a kilo of apples and how much they will cost – and Elli has to give me the answers.  Her Spanish accent is much better than mine – even though Ms. Esti says I am getting much better.  Well at least I think that's what she said!
To finish off the day we have something called PSHE, which is all about personal space and hygiene.  Firstly, I have never washed my hands so much – so I think I am on top of the hygiene bit – and I keep thinking I am going to shrink them beyond the point of no return! Then personal space – difficult with 6 of us here in the house – but I get the point.
Then the dreaded words – "Homework for today!" "If you all go back to the main page on Google Classroom" Miss O.K says – still in a very cheerful voice – "you will see the 2 things I want you to do before we meet again. Well done everyone, see you all tomorrow for more Maths and English, but Art later in the day. Bye Year 4"
The volume goes higher than ever as we all shout goodbye to each other and wave madly, but Art tomorrow should be fun!